Eeek, I've been away so long that WordPress has changed! Where is everything??
So where to start?  Let's go back a couple of months……..
At Christmas I bought Colin & myself tickets to the British Open golf which was just up the road in Hoylake this year.  Finally the day came round at the end of July, it felt so long between booking and going. I got tickets for the final day but we also got some tickets for one of the practice days so I could take some photos, as cameras weren't allowed on the actual Championship days – not that everyone abided by the rules!!  We got to see all the big names, notably Tiger Woods, Phil Mickelson, Rory McIlroy and Miguel Ángel Jiménez – who smoked a cigar almost constantly! – and loads more.  On the final day we got a seat in the front row of the stand on the 3rd green, so got to see all the top players come through really close up.
This slideshow requires JavaScript.
A couple of weeks later I had another birthday, with lots of fab presents from lots of lovely people.  I wanted a sewing box but not a little twee one, something big and sturdy, so I decided I would like a toolbox from B&Q!!  This one that Colin bought me is brilliant, there are all kinds of compartments and plenty of room for all the sewing paraphernalia I seem to have already accumulated.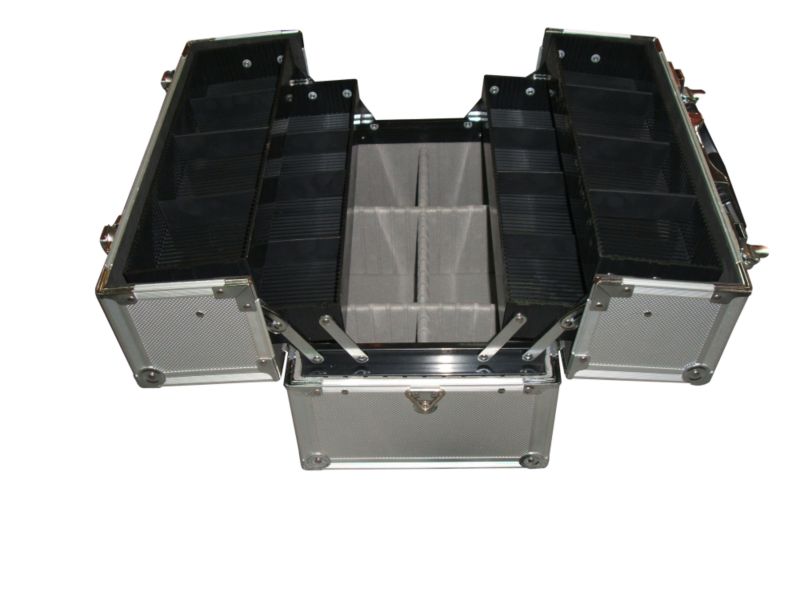 My mum and step-dad gave me some money so I got a matching set of two briefcase type ones to put knitting needles and bits in.
All this organising is down to the fact that I decided the house needed to be decluttered.  I think things had reached critical mass and there was so much "stuff" that just didn't need to be here.  So there has been a bit of a blitz!  It is by no means finished but I think we are over 50% now.  Old cooking and gardening magazines were thrown out, books were culled, bookshelves replaced, shoes stored in under-the-bed bags.  We went through our wardrobes and gave clothes to the charity shops, Colin tidied and re-arranged the small bedroom/office and we got some nice new pictures.  There are still some jobs to do in the tidy rooms, such as sort out drawer contents but my next task is the back bedroom.  As we were going along in the other rooms, items that we weren't sure whether to keep or not went into the spare back bedroom which got fuller and fuller and already had loads of my yarn and other miscellaneous junk in it.  So it is now a huge task.  I AM going to do a yarn de-stash, and will probably get rid of all my straight needles too as I never use straights, so there may be some on eBay soon.  Some other items too.  Anyone want an original Wii?  Hardly used?
This weekend I finally get to fulfil my ambition of doing some yarn-bombing!!  I have had a project in mind for a few years but never got round to it.  When the knitting group lost our friend Helen, my boss and owner of Stash Fine Yarns, I thought perhaps we could do something as a tribute to her so I revived the idea.  Rather than doing it anonymously, I wanted to try to raise some money for charity, so I got permission from the council to decorate an elephant sculpture in Chester.  We have all made squares in knit group and they are all assembled and ready to go.  The local newspaper has interviewed me over the phone about it and will feature it on their website and in the next edition.  This is what it looks like at the moment!
So getting onto knitting – hmmmm not a lot of that going on.  I'm still suffering with my hands, I still have carpal tunnel in my left hand and have now got two trigger fingers in my right hand, so it's all a bit difficult and slightly sore.  I'm getting a bit done though, I've made one Runrig and one sock!  And there are a lot of projects in the new Interweave Knits ad Knitscene that I would like to make.  However I did succumb to some new yarn.  As I couldn't go to the Pop-Up Wool Show due to work, I contacted one of the vendors and asked them to put a skein of yarn aside for me and my lovely friend Hayley collected it.
This is a skein of WooSheeps 100% BFL superwash sock yarn, 600m to 150g.  The colour is Imperial Purple and it is gorgeous.  I also have another Zauberball, this time of the Crazy type from Lottie, one of my workmates.  Colour 2095, it is a slightly pinky red, red, and wine mix.
And finally, oh my word, how do I describe the next one?  You really have to feel this yarn to believe it.  It is the softest yarn I have ever felt!  I just want to cuddle and pet it.  It is Mirasol Llama Una, 100% baby llama, 100m to 50g.  Get some – that's all I'm saying.
And look how well it matches some fabric I bought.
I have a few pennies put aside for Yarndale too of course.  This is at the Skipton Auction Mart on 27th and 28th of September. I will be there on Sunday, with my Baarmygirls podcast co-host Janey Laney!!  I am attempting to make a Baarmygirls Podcast T-shirt so if you see us, come and say hello.
Talking of making, I have also been doing a bit of sewing.  My mum recently got a new chair and I offered to make her a cushion for it.  It turned out rather well so I made 4 for myself and threw out the old manky cushions we had in the living room.
I also discovered, completely randomly, some Japanese sewing books (translated into English thank goodness).  I bought one, The Stylish Dress Book 1 and was so enamoured by it that I bought two more, Basic Black and Feminine Wardrobe.
You get 26 patterns in each book with all the pattern sheets in a folder at the back.  These can be confusing as there are only four sheets so all the patterns are printed in different colours on top of each other, so you have to search around for all the correct pieces.  When you've done that you then have to add seam allowances as they are not on the patterns.  But if you get through that bit you are on your way.  I made the cover project from Stylish Dress Book first
I didn't quite insert the sleeves correctly and it looks a bit "maternity" but I still like it.  There are so many things I'd like to make from these books, here are some of them…
This slideshow requires JavaScript.
but I'm going to start with pattern F from Stylish Dress Book, which fellow blogger Eskimimi has made such a fabulous job of.  I'll use the fabric above and then knit a small cowl to match from the baby llama.
Well hope to see some of you at Yarndale, we'll be recording on the day so be prepared to be interviewed!!!